RedeemedVintage.com Online Shop Open for Business
Hello Friends,
I'm excited to share that RedeemedVintage.com now has an online shop open for business.  Please have a look around, check it out.  I would love to have your feedback!   I ship smalls all over the US.   All of the items are also available for pick up if you are local in the Chicagoland area.  I have several hundred pieces not yet listed so if you are looking for something in particular let me know.   I'm also open by appointment whenever I'm in town, don't be shy…I have visitors coming to shop daily.
Here are a few images in the showroom.
Pair of three (3) drawer dressers side by side topped with Antique and Vintage goodies.
Lovely Hand Carved Writing Desk
Handsome Five Drawer Tallboy Navy Blue with Walnut Stained Top and Pulls
Beautiful Drexel 5 Drawer Dresser painted in ASCP Duck Egg Blue with a white wax finish and stained top.
John Widdicombe Vanity or Desk, ASCP Duck Egg Blue w/ White Wax finish
Sweet Vintage four drawer chest, white with square gold pulls.
Are you seeing anything that you would like to have a closer look at?
Matching Thomasville French side tables.
Vintage four (4) drawer chest ASCP Olive with stained top and awesome brass hardware.
And of course,  a wonderful varied selection of Antique English Advertising Pots gathered
from amazing markets in London and from my friends in England.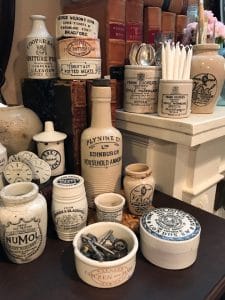 Amazing London Markets Finding Treasures for you.
I'm always thinking of you and what you might find interesting.  Thank you for your continued support and encouragement.  I'm looking forward to hearing from you and hope to see you soon!  redeemedvintage.com
…also find me on Instagram  @caroldegraeve
Warm Regards,
Carol
SaveSave
SaveSave